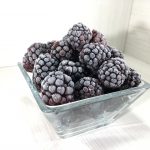 BLACKBERRIES
Blackberries help the healthy functioning of the heart, prevention of cancer, maintenance of strong bones, provide cognitive benefits, help improve memory, control weight, care for the skin, improve vision and normal blood clotting.
STRAWBERRIES
Strawberries help reduce hypertension because they are rich in potassium and magnesium, and both are effective in reducing hypertension caused by sodium and other risk factors. In addition to the above, they help increase immunity, treat arthritis and gout, improve brain and heart function.
RASPBERRIES
Raspberries have a high nutritional value because they are rich in vitamin B, manganese, vitamin C and antioxidants. Among its benefits, they help prevent macular degeneration, infections, cancer and help strengthen the immune system.
BLUBERRIES
Among the health benefits, blueberries help in the delay of aging, improve brain function, prevent cancer, cure heart disease, promote digestion and can also be used in the treatment of urinary tract infections.
RED GRAPES
Studies suggest that grapes can improve brain health and delay the onset of degenerative neuronal diseases, such as Alzheimer's, in addition to help strengthen bones, prevent heart disease and breast cancer.